Head Office: No 48 Toh Guan Road East
#01-143, 01-144 & 01-145
Enterprise Hub Singapore 608586
Tel: 6323 6166 Fax: 6323 4133

Our Services: silkscreen printing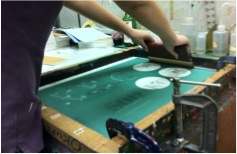 What is silkscreen printing?
A stenciling form of printing that involves the usage of woven meshes, where ink or printable materials are transferred or pressed upon the substrate.
Benefits of silkscreen printing:
An economical method to deliver your message to your consumers.
More versatile than other traditional printing techniques.
Offers the opportunities to print images and texts on a variety of promotional items.
Silkscreen printed displays are of high qualities, possess crystal clear definitions and offer water resistant abilities.
Our promise:
Achieve low cost and high visibility for all your promotions, advertisements or any form of signage.
Share cost-effective solutions with our customers.
Our silkscreen prints are less likely to be damaged by water, providing the durability factor our customers are always searching for.
Indoor/outdoor displays are able to withstand fading for over a prolonged period and are able to achieve up to 8 years of display permanence.
Our vast experience and knowledge allows our customers to print with us full in confidence.
Products/Applications
We get ahead of our customers' needs. Come to us today with your designs and we will turn them alive with our durable, crystal clear silkscreen prints that convey the right messages.
Choose from the list below to learn more about the broad range of applications we offer.
| | | |
| --- | --- | --- |
| 1. Vinyl Sticker Applications | 2. Aluminum Photo ID Plates | 3. Tie Tags |
| | | |
| 4. IMO Symbols & Signs | 5. Legend Plates | 6. Public Facilities Signs |
| | | |
| 7. Control/Mimic Panels | 8. Photo-luminescent Signs | 9. Acrylic Products |
| | | |