Head Office: No 48 Toh Guan Road East
#01-143, 01-144 & 01-145
Enterprise Hub Singapore 608586
Tel: 6323 6166 Fax: 6323 4133

Our Services: Laser Routing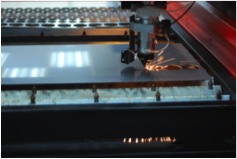 What is laser routing/cutting?
A precision cut contouring process with the application of laser technologies.
Benefits of laser routing/cutting:
Oversees many applications in a wide variety of industries.
Our laser systems provide a clean edge, burr free cuts and minimizes taper to produce high quality and precise products.
Zero contact during processing of the materials, such that distortion to the materials are prevented.
Magnificent contours and highly precision cutting formula.
Our promise:
Fast turnaround time - We pride ourselves in the provision of fast, efficient services for our customers.
Receive your products within 72 hours after your quotations.
We possess the flexibility and accuracy to achieve considerably intricate and complex parts without charring the materials.
We are capable to work with virtually all materials in various thicknesses, at an exceptional fast speed.
Our laser cut products conform to the highest quality standards, at the tightest tolerance maintained to the slightest microns, with no delamination continuously.
Our laser cutting service focuses on quality through cutting edge technology and experience in an ever-evolving industry.
Share cost-effective solutions with our customers.
Products/Applications
Laser routing/cutting continues to push the boundaries for sophisticated and delicate machining. We can achieve more applications with complicated designs or high density patterns that are apparent in many manufactured components. Our laser cuts are of high positional accuracy – Come to us today for your cutting needs.
Choose from the list below to learn more about the broad range of applications we offer.
| | | |
| --- | --- | --- |
| 1. Acrylic Products | 2. Metal Products | 3. Wood Products |
| | | |