Head Office: No 48 Toh Guan Road East
#01-143, 01-144 & 01-145
Enterprise Hub Singapore 608586
Tel: 6323 6166 Fax: 6323 4133

Our Services: Laser Engraving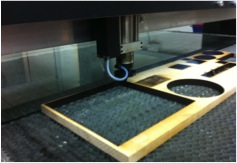 Using complex and forward-looking manufacturing processes, we provide solutions to our customers' engraving demands. In additional to mechanical engraving services, we integrate the latest state of art laser technologies for engraving services to our customers.
What is laser engraving?
A more technologically advanced methodology.
The process of creating the mark; henceforth the material is removed or oxidized during the process.
Benefits of laser engraving:
Permanent, premium engravings; tolerances are narrowed to the slightest measurements.
Generally used when the parts are expected to experience high wear.
Implemented on bare, anodized, or plated metallic surfaces.
Zero contact during processing of the materials, such that distortion to the materials are prevented.
Our promise:
Fast turnaround time - We pride ourselves in the provision of fast, efficient services for our customers.
Receive your products within 72 hours after your quotations.
Share cost-effective solutions with our customers.
We have the expertise to generate unparalleled values from prototypes to production.
Coupled with an unrivalled excellent customer service support, we are the definite No.1 choice for customers searching for engraving and marking solutions.
Products/Applications
Our laser process ensures an impressive, precise, permanent mark that is highly repeatable and can be created on flat or round surfaces. Whatever are your engraving requirements, we offer a suite of products designed specifically for your needs.
Choose from the list below to learn more about the broad range of laser applications we can deliver with consistent, exceptional qualities.
1. Acrylic/Glass Products
2. Control/Mimic Panels
3. Wood Products
4. Metal Products