Head Office: No 48 Toh Guan Road East
#01-143, 01-144 & 01-145
Enterprise Hub Singapore 608586
Tel: 6323 6166 Fax: 6323 4133

Our Services: digital inkjet printing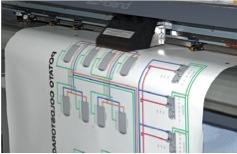 What is digital inkjet printing?
A form of computer printing that creates a digital image through the deposition of ink droplets onto the surface.
Brilliant, fantastic digital large format printing options available.
Benefits of digital inkjet printing:
Digital inkjet printing offers the flexibility in printings on practically all the surfaces.
The printing outcomes are of high qualities, high printing resolutions and largely durable.
Probably offers the greatest photo-realistic graphics of all digital prints.
Brilliant colour intensity, the perfect choice for anyone pursuing remarkable graphic displays.
Our promise:
Our customers are guaranteed a sense of great satisfaction.
Confident that our printings can meet customers' demands for exceptional image qualities and long-lasting, robust performances across a wide range of applications.
Optimal durability and longevity of our printings - Outdoor displays, which are usually subjected to detrimental environmental conditions, WILL NOT deteriorate at an accelerated pace over a short period.
Our ink qualities conform to the industry leading rigorous standards.
Our customers can expect to enjoy significant cost-savings in the long runs as the turnover rates are reduced.
Our customers can print with us full in confidence.
Products/Applications
Whether you're printing outdoor banners, customized product identification tags, signage or vinyl stickers, we offer an array of printing solutions to cater to your demand for advertising, indoor/outdoor marketing, informative or high-volume production needs. Explore the endless new applications with our efficient, scalable print productions and attention grabbing, high resolutions prints today.
Choose from the list below to learn more about the broad range of applications we offer.
| | | |
| --- | --- | --- |
| 1. Vinyl Sticker Applications | 2. IMO Symbols & Signs | 3. Photo-luminescent Signs |
| | | |
| 4. Banners (Textile, PVC) | 5. Wallpapers/Lift Doors Stickers | 6. Safety/Warning Signs |
| | | |
| 7. Traffic/Reflective Signs | 8. Tagboards | 9. Identification Tapes |
| | | |