Head Office: No 48 Toh Guan Road East
#01-143, 01-144 & 01-145
Enterprise Hub Singapore 608586
Tel: 6323 6166 Fax: 6323 4133

Our Services: etching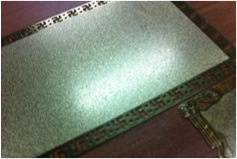 What is etching?
A process whereby parts of the metals are cut into to create an impression that is highly accurate and refined.
Are you looking for high precision manufactured metal products with tight, consistent tolerances or are you looking for engraving services that produce burr free components, thus eliminating the need for costly time-consuming de-burring? Search no further, you have found the RIGHT partner in us – our excellence in etching!
Our promise:
In certain ways, our etching processes allow you more freedom than alternative technologies like laser cutting/engraving or stamping processes.
Industrial production of highly accurate metal micro components.
Whatever is your challenge, our etching technologies will present a comparable solution.
We can achieve high reproducibility while maintaining strictest tolerances using our unique etching processes.
We can also produce complex parts that would be either impossible or impractical to produce by stamping or laser cutting.
You can have the flexibility to achieve unusual configurations to tight tolerances, including the production of small holes and bars that will be missed by our naked eyes.
With this amazing technology, our customers can do much more!
Products/Applications
Stay amazed with our etching technologies. With our avant-grade, optimum machineries, achieve a wealth of possibilities for applications. Achieve diverse applications that are unique to the etching technologies. Get precision, accurate, quality and economical solutions here!
Choose from the list below to learn more about the broad range of applications we offer.
1. Designer Cards
2. Indoor Signage
3. Corporate Awards/Plaques
4. Machine ID Plates
5. Microstructure Products